30 years of experience
We have over 30 years of experience and have successfully treated over 10.000 patients.
About us
The Eltz Institute was founded in 1984 and specializes exclusively in the treatment of misaligned teeth and jaws. Our unique New York method has three important advantages for patients: The treatment is invisible, convenient in everyday life and affordable for everyone.
Get to know us!
See in our video how we at the Eltz Institute can correct all misaligned teeth at the highest level and with the latest technology and what patients say about us.
Eltz braces are invisible
The Eltz Institute is specialized in invisible braces. Our institute is one of the 5 largest Invisalign providers in Europe. We are number 1 in the German-speaking area. Based on our experience, we teach and certify dentists throughout the DACH area.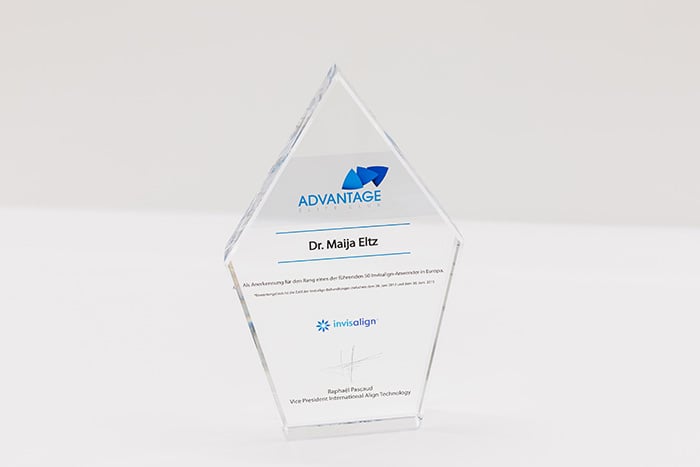 Eltz braces are comfortable
Our patients typically have one thing in common: they have little time. They are either very busy in their careers or as students. Others must balance children with professional success. We are specialized in such needs and will find the perfect solution tailored to you.
Eltz braces are affordable
We offer highest quality orthodontic methods. At the same time, it is important to us that beautiful and healthy teeth remain affordable. That is why we follow the recommended guidelines of fair fees by the Vienna Dental Association and offer the option of interest-free installment payments. Free braces are offered to children and adolescents up to the age of 18 with severe misalignments.
Based on this philosophy, we want to achieve the best orthodontic results - the most beautiful and healthiest smiles. Continue reading to find out how we convert this quality standard into real results.
Dr. Maija Eltz

"WITH US YOU GET THE UNIQUE ELTZ GUARANTEE: WE TREAT UNTIL SATISFACTION IS ACHIEVED. I DON'T STOP UNTIL BOTH THE PATIENT AND I ARE SATISFIED!"

Dr. Anne Wunderlich

"COMPREHENSIVE DIAGNOSTICS AND TAILOR-MADE ORTHODONTIC TREATMENT FOR YOU AND YOUR CHILDREN MAKES FOR PERFECT INDIVIDUAL DENTAL REGULATION."

Dr. Denise Busche

"I AM A PASSIONATE ORTHODONTIST, BELIEVING IN THE POWER OF A BEAUTIFUL SMILE. WITH ONLY A FEW, AND ABOVE ALL SHORT, APPOINTMENTS WE REACH YOUR DREAM SMILE TOGETHER."